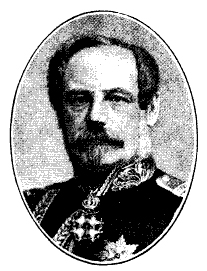 Born 1802. A physicist, artilleryman, and nobleman (Baron), Fabian Jakob Wrede was accomplished in many disciplines. Although his rifle was obsolescent, his groundbreaking work in other areas had a profound impact on our lives.
As a physicist, Wrede pursued studies associated with understanding the behavior of light. While serving as a major in the Göta Artillery Regiment, he conducted scientific studies at Uppsala University. In 1841, Wrede was the first Swede to obtain photographic equipment (daguerreotype), with which he attempted the first photographs produced in Sweden. His scientific work on light and instruments for measuring its behavior (including development of an early spectroscope), laid important groundwork for future chemistry advances and the study of astrophysics.
In 1855, Wrede helped found Sweden's first life insurance company, Skandia (which is still in business today). He rose in military service to Chief of Artillery in 1857. Following development of the m/1860 rifle bearing his name, Wrede introduced rifled field artillery into the Swedish Army. Using his understanding of light and measurement, Wrede developed sophisticated optical instruments and aiming devices, improving artillery design and accuracy to world-class standards. He rose to the rank of Lt. General in 1867, retiring from military service in 1875 (at age 73!).
A testament to his lasting influence on Swedish artillery technology is that the rapid-fire anti-aircraft guns that equipped nearly all U.S. Navy warships during the Second World War were both Swedish designs (the 20 mm. Oerlikon and 40 mm. Bofors), adopted by the U.S. because they were the best in the world. More than 70 years after it first entered U.S. military service, the 40 mm. Bofors is still in use today on U.S.A.F. AC–130 Spectre aircraft.
In addition to his academic and military posts, Wrede served in the Royal Court of three Swedish monarchs. First, as Ordnance Officer and Adjutant to King Karl XIV Johan (reigned 1818–1844). Also as Chamberlain of Crown Prince Oscar, who as King (Oscar I reigned 1844–1859), appointed him to the Cabinet. Wrede also served as Chamberlain and First Adjutant to King Charles XV (reigned 1859–1872); and, head of the Loyal Adjutants and the Ordnance Officers' Corps.
Because of his expertise in measurement and instrumentation, Wrede represented Sweden at the 1872 Paris International Conference on Weights and Measures, where he helped develop the metric system. Wrede also served as Swedish delegate to the 1884 Washington DC conference that established the international prime meridian at Greenwich, England, and created international time zones. Wrede died in 1893, at the age of 90.
While his rifle was obsolete by the time it entered service, so many of his other accomplishments had impacts far beyond his ability to foresee. His scientific work with light helped forge a path leading to miracle drugs and space exploration. His advancing Swedish artillery technology to world-class levels ultimately helped the Allies defeat the Axis Powers in World War II. His leadership on international measurement, navigation, and time standards gave us the framework we use today to conduct business and commercial travel on a global scale.