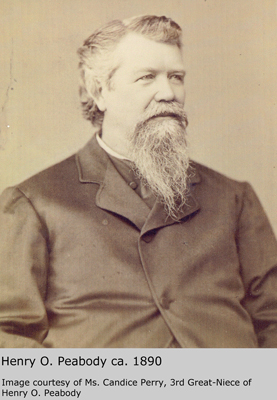 Born 1826. An inventor and progressive philanthropist, Henry O. Peabody remains a relatively unknown American.
Although his rifle was one of the best of its day, poor timing and the greater political influence of competitors (especially, Remington) precluded its acceptance as a standard U.S. infantry arm. However, foreign contracts resulted in production of over 750,000 Peabody and Peabody-Martini rifles between 1862–1879, providing Peabody a comfortable livelihood and financial security.
When he died in 1903, aged 77, he left the bulk of his estate, comprised of the King Gay Farm in Norwood, Massachusetts, and some $350,000 to a trust whose purpose was to establish on the property, the Henry O. Peabody School for Girls. The school was to "furnish instruction to girls by teaching the various branches of art, science, and industry best calculated to enable the scholars to acquire an independent livelihood."
Family members protested the will, claiming that Peabody was insane to have left his estate to such a purpose. After nearly a year and a half of legal proceedings, the Massachusetts Supreme Court dismissed all claims in December 1904.
Peabody's will indicated that trustees were to allow the fund to accumulate until in their view it was sufficient for operation of the school. Then they were to build suitable buildings and open the school. In 1910, the trustees sold off the King Gay Farm. By 1938, despite the Great Depression, Peabody's trust had grown to over $750,000. In 1940, voters approved the construction of the Henry O. Peabody School for Girls, attached to the north end of the Norwood High School. The Peabody School flourished for nearly 50 years, providing vocational education programs in business, culinary arts, fashion design, cosmetology, and nursing. The Norwood area economy declined during the 1980s, as light manufacturing jobs moved overseas, resulting in the Peabody School's closure in 1989.
The Peabody trust continued operation, creating the Henry O. Peabody Scholarship Program in 1991. Today, $1,000–$5,000 renewable scholarships for post-high school study are available to women of all ages who reside in Norfolk County, Massachusetts, and are pursuing a bachelor's degree or an associate degree on a full or part time basis; or who are enrolled or planning to enroll in a vocational technical school. Single mothers and women who are receiving public assistance are given special consideration. Since the Program's inception in 1991, over $3 million has been awarded.
While his rifle did not achieve the success that it deserved, Peabody's progressive vision for women was far ahead of its time. More than a century after his death, Peabody's legacy of enabling women to achieve financial independence lives on.