Up to this point, sword bayonets were typically secured to the rifle or musket by a leaf spring press stud. The leaf spring was simple and inexpensive to manufacture. It was secured to the hilt by a single screw or rivet. The press stud was typically integral with the spring, making for only two pieces, the press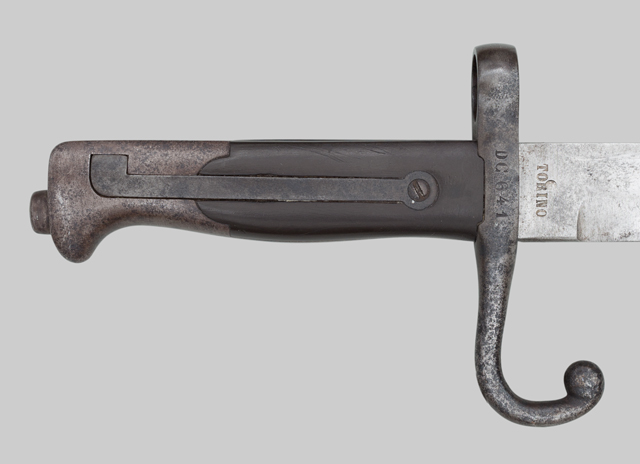 stud/spring and the screw or rivet that secured it. This
Italian M1871 sword bayonet
has a long leaf spring characteristic of early production. Later Italian M1871 bayonets had a shorter leaf spring.
The downside of the leaf spring was that the hilt and or grip had to be machined to allow the leaf spring to rest flush; and, that the exposed leaf spring was prone to rusting and breakage. Because of this, 19th Century sword bayonets are often encountered with the press stud/leaf spring missing.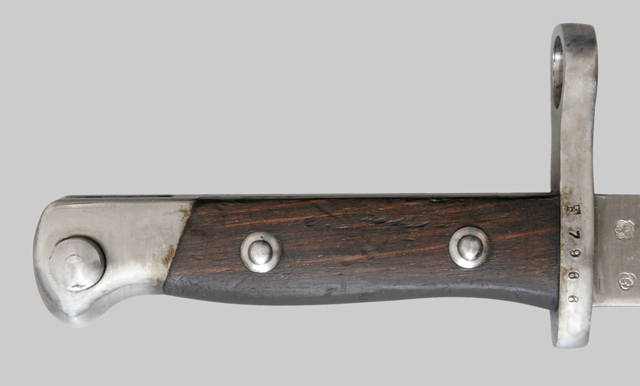 In 1882, the German firm, Gebrüder Weyersberg (Weyersberg Brothers), patented the coil spring press stud. Their revolutionary Feder-Einrichtung an Infanterie-Seitengewehren (Spring Mechanism in Infantry Sidearm) employed a coil spring housed entirely within the pommel, independent of the grip, and protecting the spring from the elements. [View the Gebrüder Weyersberg 1882 patent for the coil spring press stud, obtained from the Deutsche Patent- und Markenamt (German Patent and Trademark Office]
Once introduced, the coil spring press stud rapidly became the near-universal means of securing sword and knife bayonets. At this time, Gebrüder Weyersberg was in the midst of producing the M1867 sword bayonet for Denmark. Denmark switched from a leaf spring press stud to a coil spring press stud, in mid–1884, during the production run. As a result, Danish M1867 sword bayonets may be found with both leaf spring and coil spring press studs.
In 1883, the unexpected death of Hermann Weyersberg resulted in the Weyersberg firm's merger with W. R. Kirschbaum to form Weyersberg, Kirschbaum and Co. The Chilean M1895 knife bayonet pictured above was made by Weyersberg, Kirschbaum and Co. 1895–1901, using the Weyersberg-patent coil spring press stud.